It's almost Christmas, and we want to ensure you are prepared for your festive journey over to family and friends. Enjoying Christmas is all about eating plenty of delicious food, and opening presents you've been waiting to open. Many people travel on the run-up to Christmas and pack their cars full of festive items. Your vehicle can bare a fair amount of wait, but there are a few checks you can make before setting off to ensure not only your car is safe but those of your travelling inside. So here we discuss how you can prepare your vehicle for a heavy load.
Heavy Loads
Over the Christmas periods, there are a number of items you will need to make sure are safe before driving. Including presents, food, plants and of course your somewhat larger Christmas tree. If you can we recommend you try and have your Christmas tree delivered to your home, however, this isn't always an option. Firstly try and place the tree in the back of your car or vehicle, if it's too big you may need to consider another tree however if your boot is too small you will need to perch the tree on the roof of the car. There are a few measurements you need to take before transporting your Christmas tree. Measure where you wish to place it in your home, you will only want to make this journey once so try and ensure you purchase the right size tree first time around. More importantly, you will need to measure the roof space on your car; you want to ensure you can transport the tree safely, think about whether it hinders your view.
If you have a roof rack, it will be much safer for you to transport the tree from your location to your home as it can be easily tied. You will need a strong rope or ratchet straps which can be purchased at The Ratchet Shop. Secure the tree in three central positions, bottom, middle and top. We suggest your loop the rope or nylon ratchet around the tree and then tie down to ensure it doesn't move from side to side. Use an old blanket to prevent any paint scratches and protect your vehicle from any dents or damages your tree might cause.
Drive with care, not only do you need to look out for yourself but also other drivers on the road. Make sure that weather conditions permit you to drive, don't bother going to collect your tree when it's icy or heavily raining; you want your journey to be as stress-free as possible.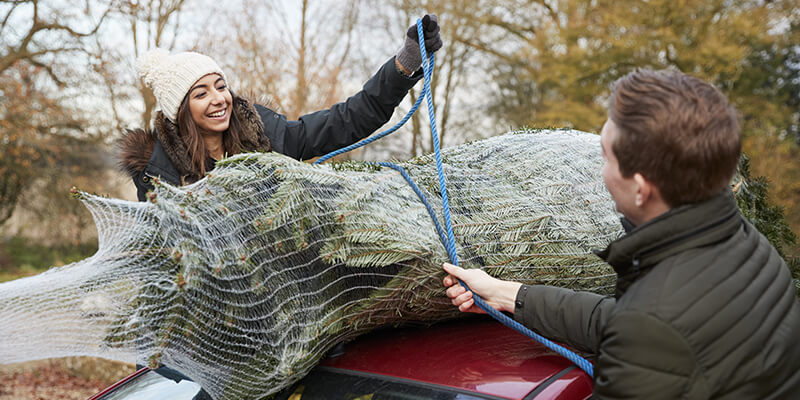 Stuffing and sliding
You will need to place any bulky items lower than lighter ones. We suggest placing if they can fit, things into the foot wells to reduce them from sliding too much. Use cardboard boxes or plastic crates to store smaller items or your Christmas shopping. Never leave items on your parcel shelf, this could be extremely dangerous in an accident or if you have to break hard. They can come flying off the shelf into passengers.
Vision
Keep all vision clear, do not place any items that could significantly decrease your vision. If you think you are tight on space, you might want to consider looking at purchasing a roof box from Roofbox.co.uk. Many are often waterproof and are entirely safe to use, also adding a significant amount of extra space for you to use.
If you are thinking about purchasing a roof box, you must ensure that it is adequately secured. When travelling at speed if not secured well your roof box can lift at the front due to airflow. You will also want to ensure it is secured well at the back of the box if not a heavy load can slide forwards when breaking hard.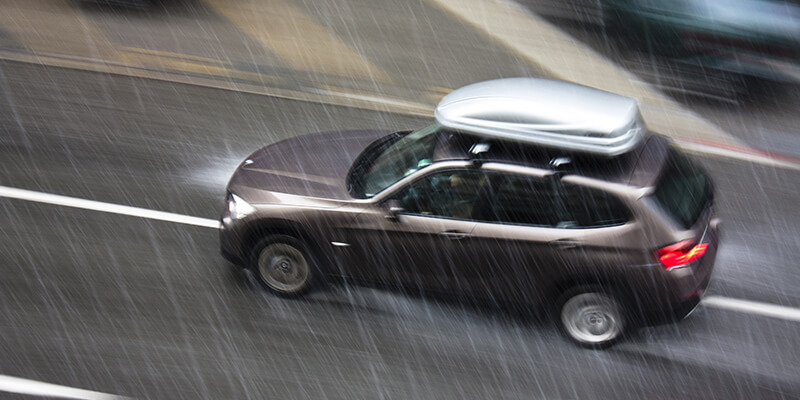 Car handling
Think about the way your car will handle the weight it is bearing. You should take a look at your car manual; in there it will suggest precisely how much weight your vehicle can carry. This will include additional weight as well as the driver and passengers. Stopping distances will become longer if you have a massive load take into consideration how long it will take for you to stop, the last thing you want is to accidentally crash into a vehicle in front because you misjudged your stopping distance.
Try to distribute the weight of your load as evenly as possible to ensure your car is safe and stable. You might need to make some adjustments to your vehicle such as increasing the air pressure in your tyres or adjusting the aim of your headlights. You might find that your lights are no longer in the right position if your car is sitting lower down.
Basic car maintenance
We always recommend you carry out necessary car maintenance on your vehicle before setting off on a long journey or carrying a heavy load. This way not only does it give you peace of mind you are also ensuring your car is roadworthy. Check the engine oil as it keeps the engine lubricated so it can work efficiently; check that it is within the min and max mark. Check the window cleaner, the last thing you want is to get salt or dirt on your windscreen and not be able to clean it effectively. Finally, do not ignore warning signs, you should always make sure your car is safe the longer you leave it, the worse it will get.
Summary
We always suggest that if you are placing something on your roof, you are strict with regularly checking it is secure for you to drive. While you may think it is secure not only can it be a danger to you but also to others on the road. Heavy loads are likely to affect the way your car handles; your steering may feel heavier because you are carrying more weight. Always make sure your vision is clear, and nothing hinders how well you can see.
Necessary maintenance is key to ensuring your car is safe to drive. If you are unsure on any aspect of maintenance or believe your vehicle may need more then a home service check, we suggest you take it to a qualified service and maintenance garage. They will be able to provide you with a full service; this will also help you feel a lot safer on the road.