As a driver, you will be responsible for many tasks when caring for your vehicle, all of which ensure that your car remains roadworthy and within legal guidelines. Along with requirements such as an annual MOT, you will also need to complete several checks from home to stay fully compliant between visits to your local testing centre, particularly when it comes to your tyres.
Throughout our ten years of experience providing our clients with their BMW or Porsche service in Milton Keynes and the surrounding areas, we have guided many customers on keeping their tyres within legal requirements. Using this knowledge, we have put together a complete guide to answer the common question of 'what is the legal limit for tyres?'
What Is The Legal Limit For Tyres? Your Questions Answered
Tyres will inevitably go through their fair share of wear and tear, which means that every driver can expect them to begin balding or for damage to appear over time. While this is unpreventable, the key is always to keep an eye out for these signs of deterioration, allowing you to spot issues early and schedule a replacement before the tyres become dangerous. With this in mind, to ensure that your tyres remain legal, our guide will answer the following questions: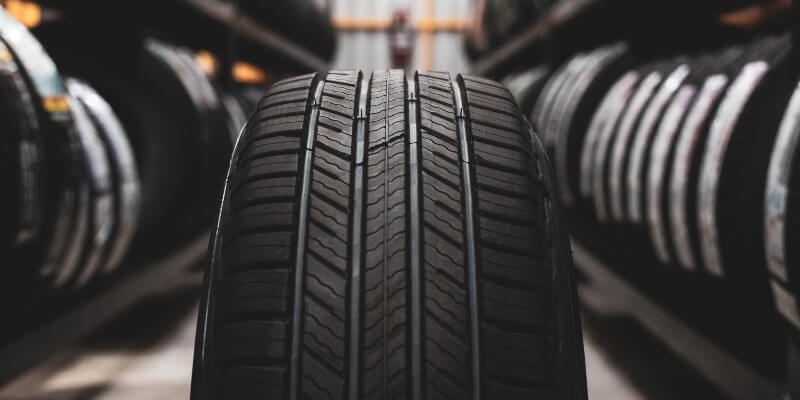 Having spent many years providing Porsche, Mini and BMW repairs in Buckingham and the surrounding areas, we have worked with hundreds of clients to advise on their vehicles. By far, one of the most common questions we are asked is, 'what are the legal requirements for tyres?' and while the rules may sound complex, they are relatively straightforward to break down.
Let's start from the initial purchase. When searching for the correct tyres to fit on your vehicle, you must keep the following in mind:
1. The tyres must be of the correct type and size, as stated in the vehicle's handbook or on a sticker placed in the door jam or fuel cap door.
2. The same tyres must be fitted on opposite wheels. For example, if you fit radial-ply tyres, this type must also be used on the same axle.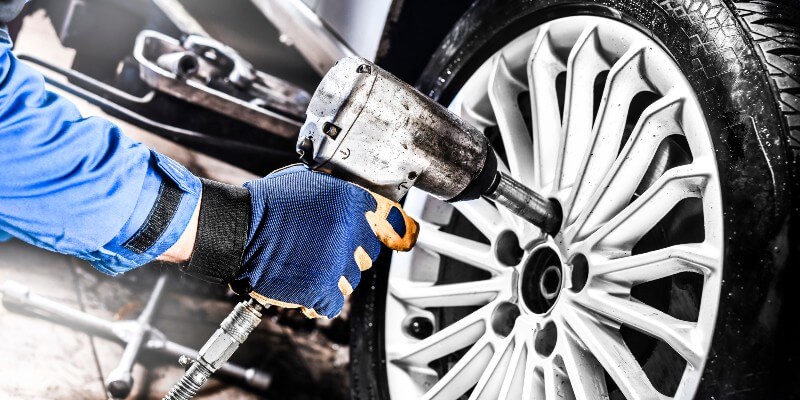 Once your tyres have been fitted, assessing and maintaining their condition will be essential. This will include:
Damage:
As mentioned in the introduction, it is perfectly normal for tyres to go through wear and tear, so do not worry if you spot signs of damage. The key will be to get into the routine of checking the condition of tyres regularly, keeping an eye out for lumps, bulges or tears on the structure or cuts deep enough to reach the body cords. If you notice anything unusual, the best route is always to book for your vehicle to be professionally inspected. Our team are always more than happy to do this and will only ever recommend tyre replacement if they feel it is absolutely necessary.
Pressure:
On average, tyres lose two pounds of air each month, meaning it is recommended to check the pressure on a monthly basis. For an accurate reading, this must always be carried out when the tyres are cold, and the vehicle has not been driven for a few hours.
If you're unsure of the correct tyre pressure for your make and model, then be sure to check out the handy search tool on the KwikFit website. Each vehicle is slightly different, so ensuring that you inflate to the right level will be imperative. Under-inflated tyres will wear your tyres out quicker and increase rolling resistance with the road, while overinflated tyres will lead to loss of traction and poor braking response.
Once you have determined what pressure you should have in your tyres, you can use the AA's handy guide on how to check and inflate tyres.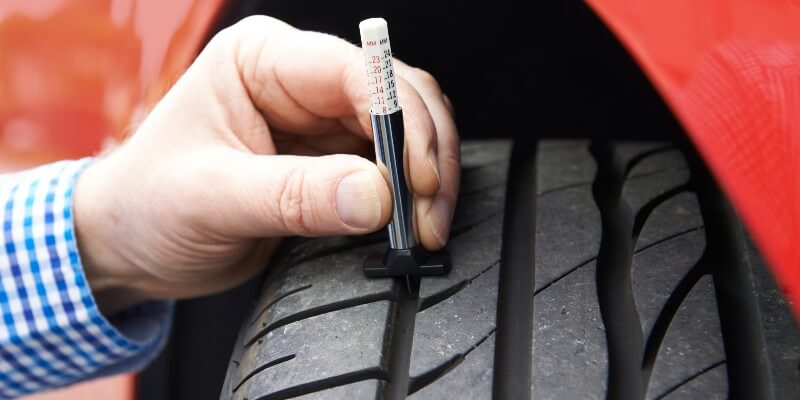 Along with assessing damage and checking tyre pressure, ensuring that your tyres have the correct tread depth will also be crucial. This, again, is a legal requirement and can even cause your vehicle to fail its MOT.
On a brand new set of tyres, the start tread depth is typically between 8 and 9mm; however, this starts to decrease with constant use. Generally, tyres will take around 3 to 5 years to wear down to replacement level. Still, as with any other vehicle component, this will differ based on how often you drive, the length of journeys and typical road conditions. Nevertheless, understanding the minimum legal depth for the tread on car tyres will ensure that you remain within the law and schedule a replacement before the existing tyres become dangerous.
For cars under 3,500kg, as well as trailers and caravans of the same maximum weight, the minimum tread depth is 1.6mm. When this 1.6mm tread continues along the centre of three-quarters of the tyre, it is no longer legal, and you risk losing sufficient grip on the road surface. For this reason, it is recommended to try replacing your tyres when the tread reaches just below the 2mm mark, if not before if the winter months are approaching or you are planning a long journey.
There are several different ways to check the tread depth of your tyres, and it is recommended to do this around once a month. The most popular methods are the following:
The 20p Test:
Simply place a 20p coin between the grooves of your tyre tread and check how much of the coin's outer rim is covered. If you can see any part of the outer rim, then it is likely that you have reached or are below the 1.6mm limit.
Tyre Gauges:
Gauges are the easiest and most accurate method of checking the tyre tread as they show you precisely how close you are to the legal limit. There are many gauge types available, from digital devices to laminated cards. Take a look at Auto Express for more information on the highest rated options.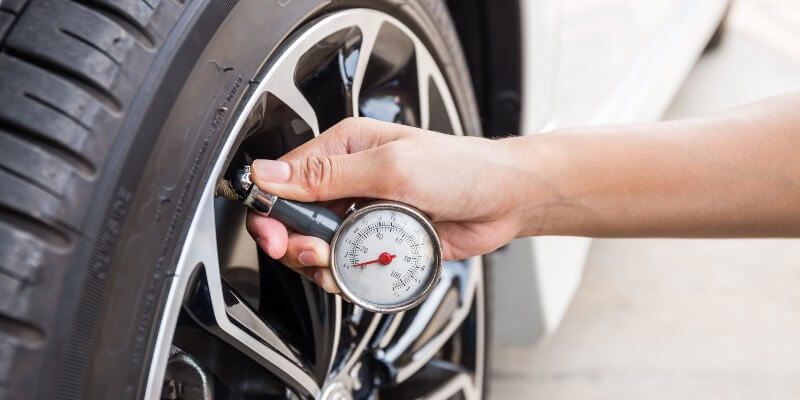 Studded tyres are designed for winter use and feature metal studs that are integrated into the tread. Based on the tyre size and model, each design has a slightly different number of metal studs, ranging from 60 to as many as 120. This tyre type allows for a much better grip on icy roads, particularly if attempting to drive over hills.
While these tyres may seem like a great investment, it is important to conduct plenty of research before purchasing. Why? Because when the colder months approach, we are regularly asked, "are studded snow tyres legal in the UK?" but the answer to this does differ.
Typically, studded tyres are not permitted for use on UK roads as the weather conditions are not adverse enough to justify the studs. On the rare occasion that we experience extreme cold conditions, they will be super beneficial, but unless there is a large amount of ice or snow on the roads, the studs will begin to damage the tarmac. Not only this, but as the amount of frictional resistance is dramatically increased, you are likely to find that the tyres will wear down incredibly quickly. The only instances where it will be legal to use studded tyres are when driving off-road in rural areas.
You can find more information on this topic on the Oponeo website.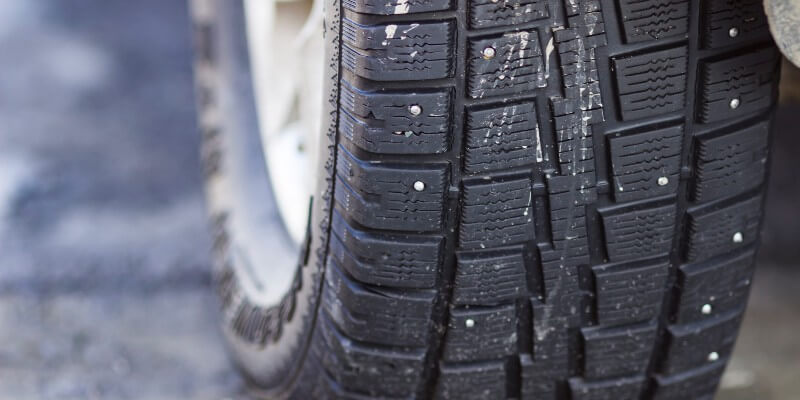 Fitting the wrong sized tyres or driving with damaged tyres, for example, will inevitably put both you and other road users at immense risk. As well as no longer offering sufficient grip on the road surface, poorly fitted or maintained tyres will also negatively impact your control over the vehicle and braking distance, making it far more challenging to react in potentially dangerous scenarios.
The consequences can be severe if you are caught with poor quality or damaged tyres. Times this by four for each tyre on your vehicles, and you could be looking at a £10,000 fine and 12 penalty points. In the UK, you are only permitted up to 12 points on your licence before you are disqualified from driving altogether. More information on the current penalty point system can be found on GOV.UK.
Along with fines and licence points, it is also important to note that driving with tyres in an unfit state is likely to cause an increase in insurance premiums. If penalised, insurance providers will consider you an 'unsafe driver', which means you will need to pay a higher premium until the points no longer apply.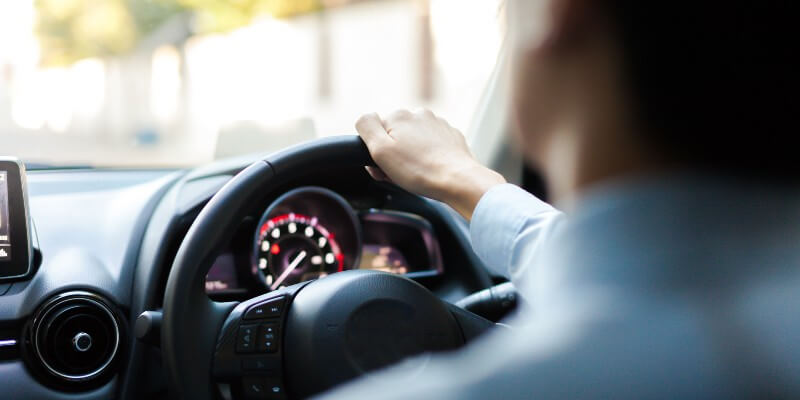 Keeping Within Legal Limits Made Easy!
While every vehicle has slightly different requirements, it couldn't be easier to ensure that your tyres remain within legal requirements. The key is to get into the habit of regularly assessing the condition of tyres while also scheduling time to check the pressure and tread. Together, this will avoid fines and penalty points and keep both you and the road users around you safe.
For all of your German vehicle needs, please do not hesitate to get in touch with the Deutsch Tech team. Along with tyre replacement and wheel alignment, our experts also specialise in services such as BMW, Porsche and Mini diagnostics in Aylesbury and the surrounding areas!