Most of us enjoy having a sparkling clean car, preferring to keep our vehicles looking their best and in a pristine condition. Unfortunately, it can become very expensive having to fork out on costly cleaning products each month or paying to get cars cleaned again and again – especially in the winter months when the weather is at its worst.
Car valeting is great for convenience, but the outlay can begin to mount up before you know it. We all like to save a bit of cash, which is why we've taken the time to research the best way in keeping your car clean on a budget and how to keep your costs to an absolute minimum.
A Guide To Keeping Your Car Clean On A Budget
While it may feel like the only way to retain that new car sheen is to get it washed by professionals, it's definitely possible to keep your vehicle looking great by yourself. With a little bit of elbow grease and cost-savvy purchases, your car will maintain that showroom feel at all times.
Many people treat their vehicle as a prized possession, whether it be a larger family car or smaller sporty number, so keeping it clean remains a number one priority. Whether this applies to you, or you're simply wanting to keep your vehicle looking nice, we have some great cost-saving solutions.
Car cleaning products can be extremely pricey, with standard cleaning kits costing around £50, which don't even include brushes or sprays. All of these separate components only add to the overall costs, which once used will all need replacing. We recommend buying some key cleaning products to get the best finish possible, and ultimately compile your own car cleaning kit on a budget.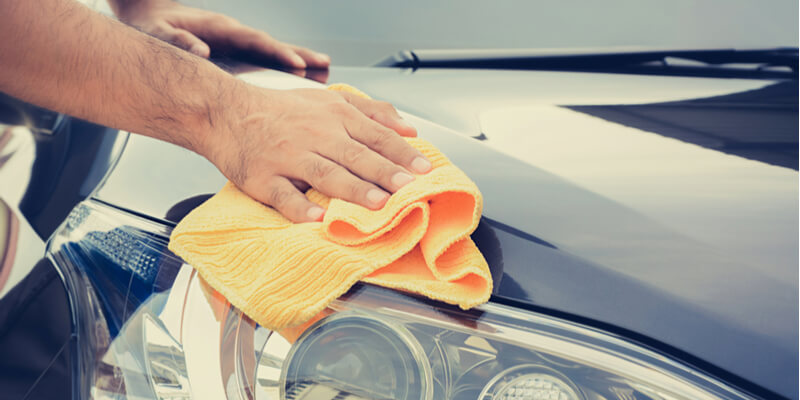 Cleaning your car
When deciding which cleaning products to use on your car, it's a good idea to assess the age first. Older vehicles, for example, will not take well to chemically harsh cleaning products, as the paint may be a little more sensitive in comparison to a more modern car. An older model may also have less of a shiny, wax finish, so will need more attention when it comes to polishing to get the desired look.
Before buying any product for your car, it's imperative to read the label. Any harsh chemicals should be avoided, especially on older vehicles, as with the wrong care you could damage delicate parts of the bodywork. For instance, if you were to use a chrome wheel cleaner on aluminium wheels, they could be completely ruined due to its acidic properties.
Top Tip: Carwash.com have a very informative article on precautions to take when washing a classic car, which is worth reading should this apply to you.
Invest in quality cloths
A good quality cloth is essential when cleaning your car, as this will constantly be in contact with the bodywork. This is one of the first items to think about when collecting a cleaning kit for your car, so it's worth getting one that will stand the test of time. We recommend purchasing a microfibre cloth, as these do not contain synthetic materials and are instead packed with smaller fibres resulting in a deeper clean. They are able to collect microscopic dirt particles that many other cloths would fail to pick up, resulting in a much better clean.
While this may sound like an expensive option, it needn't be. Microfibre cloths are very affordable and can be picked up from many different retailers, in-store and online. Clean Your Car have a range of microfibre cloths at varying price points, allowing you to find one to suit your budget. Once you've bought one, the likelihood of having to replace it in a short amount of time is relatively slim, unlike other cloths.
Top tip: make sure you clean your cloth thoroughly once you've finished cleaning your car to prolong its life as much as possible.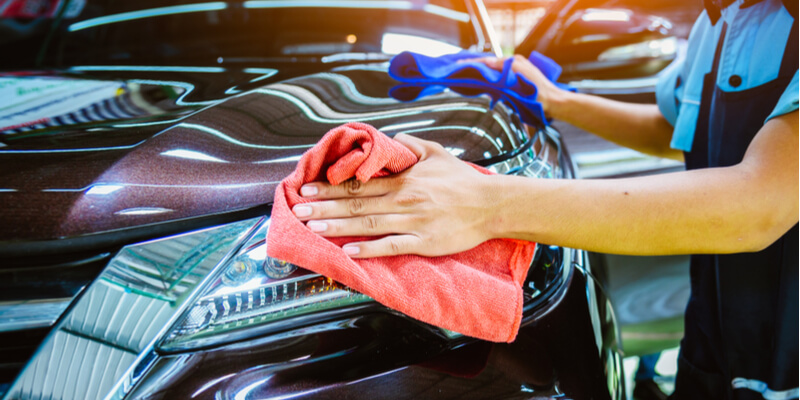 Cleaning products
There are many different cleaning products that may come into play, depending on various factors surrounding the age of your car and area you live in. For example, if your car is regularly parked underneath trees, either at home or work, you may find that it's often covered in bird droppings. These can prove to be very damaging to paintwork, so should be removed as safely and as quickly as possible. Because of this, we suggest purchasing some Autoglym bird dropping wipes to have in your car at all times. They are really inexpensive and can be used as soon as you see any bird dropping, to reduce damage to your car. At such an affordable price, it's definitely worth having some of these in the glove compartment to avoid the chance of damage and expensive repairs costs later down the line.
When it comes to deeper cleans and products for more regular cleans, there are many to choose from. One that we come across time and time again for its affordability and effectiveness, is Meguiars Gold Class Car Wash Shampoo And Conditioner. This particular product gently foams away dirt and removes grime leaving an impeccable finish. The drying time when using this cleaning product is very quick, meaning that the chance of experiencing smears will be kept to a minimum. Meguiars have a range of products available, which are all very cost-effective and a great addition to any budget cleaning kit. Take a look at the range on Shop'n'Shine for some inspiration – you may find a few items to add to your cleaning kit!
So, you have your cloth and cleaning product, what should you use to actually wash your car with? From experience, we find that power washers are the most effective at cleaning newer vehicles, while a gentler hose is better on cars that are slightly older. Both methods will immediately help to expel loose contaminants, such as dirt, mud and dust, which we recommend doing before using a cloth. This way, nothing will be picked up when you begin to hand wash your vehicle, reducing the risk of scratches as you move the cloth around. CarParts4Less have a domestic power washer for an incredibly affordable price, so you don't have to break the bank.
Top Tip: While this should go without saying, remember never to use liquid detergent or dish cleaner on your car, as this can damage the paintwork and strip away the wax.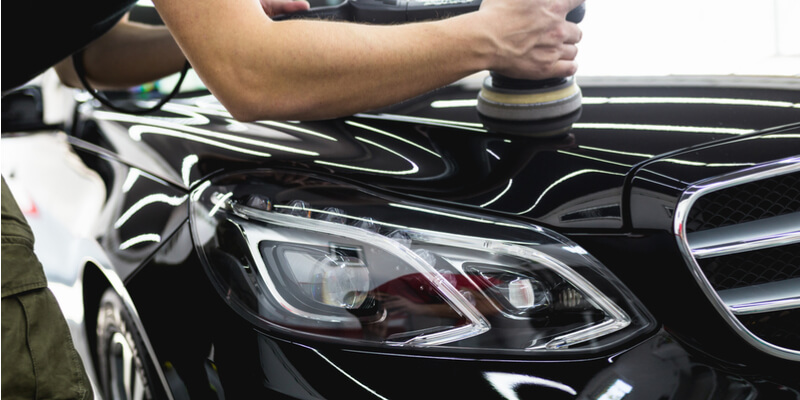 Getting a Sparkling finish
Once you have finished cleaning your vehicle, there may be smears and swirls left behind where you have moved the cloth around. There may also be water spray left from washing which you'd like to remove to get a pristine finish. To do so, many people use a clay bar to help eradicate any stubborn marks. These can be picked up from Ultimate Finish for a great price and are able to remove a variety of contaminants to improve durability while increasing gloss levels.
Clay bars are specifically designed to get rid of pollutants such as tree sap, acid rain and metal flake particles, that washing alone will not be able to remove; making them a worthwhile addition to your cleaning kit.
Top Tip: It's worth buying clay bars that are kind to paintwork as some are so strong, they can damage your car!
Polish
While polishing is optional, we'd definitely recommend spending the time doing it to get that extra shine. Most polishes can simply be applied by hand, although if you have a polisher, this can be used too. It's worth picking a polish that contains conditioning oils, as this will help to get the best gloss possible and enhance the colour of your car. Polishes are known to be a little on the pricey side, however, the Menzerna Medium Cut Polish 2500 is extremely affordable and can be used on any vehicle.
Top Tip: Take a look at this useful guide from Wikihow on how to effectively polish your car.
Waxing
Waxing is often viewed as suncream for your car, as it helps to add a protective layer and prevents UV rays from dulling the colour and paintwork. Many people may swerve this step, but it's a good idea to finish the car cleaning process with waxing as it helps to preserve the high gloss your car was presented to you with. As well as being friendly on the bank balance, Turtlewax Carnauba Paste Wax is really easy to use, super durable and provides extended protection for every car.
Top Tip: Check out this article from autoexpress, detailing the best car wax available along with reviews.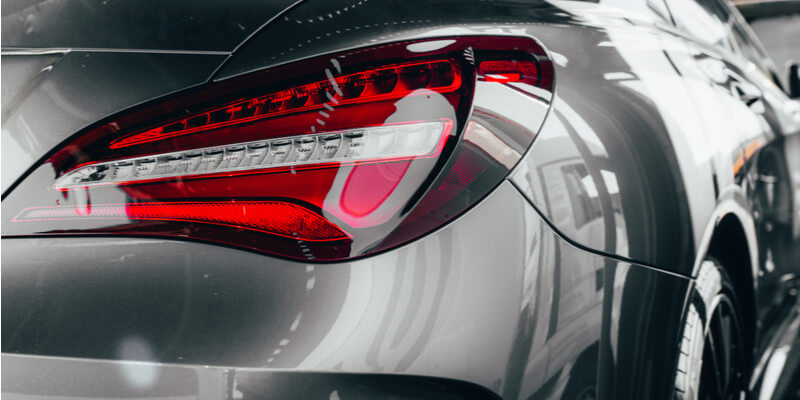 Maintain that new car gloss
By following these simple tips, it's easy to make your car look like you've just driven it out of the showroom or ready to drive to a wedding. We recommend cleaning your car every 6-8 weeks to keep it looking its best, which hopefully will seem a lot more manageable with our money saving ideas. While booking in for your BMW service in Aylesbury or perhaps Mini repair in Milton Keynes, ask about your chosen garage's deep clean options, as it's a good idea to let the professionals take over once every 6 months. This will ensure that your car always looks its best and will ultimately save you money in cleaning costs. We hope you've found this helpful – if so, why not share the article on social media and let others find out how to clean their car on a budget.